Features
Octopus™ Retail POS is a full-featured Point-of-Sales (POS) solution, specially designed for small and medium scale business owners. Our comprehensive functionality will provide a broad and analytical overview to ensure that you are on top of every aspect of your business.
Easy Product Management
Designated for easy cataloging and displaying of your products.
Add your product details and photos in a flash. Allows bulk product input from whichever system you are using.
Keep Track of Your Inventory
Manage your inventory and never lose track of your stock counts.
Stock take process made easy with Octopus™ Retail POS.
Flexible Payment Mode
Fast and effective recording of transactions allowing multiple payment modes.
Receive payment by cash, Visa, Amex, Diners, selected financial merchants, voucher, whichever way your customers prefer.
Smooth Transaction
Process sales quickly by scanning barcodes and adding products off the list with the Open Key function.
Beat the queue using Octopus™ self check-out.
Retail POS Products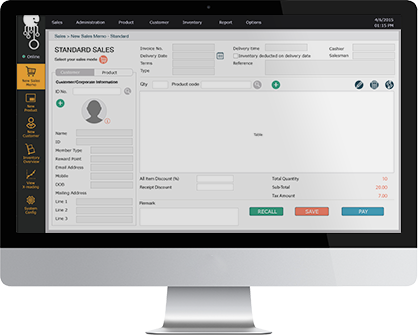 DESKTOP POS for Mac & Windows
With our flexible system architecture catering for a wide variety of retail operations from fashion apparel to home furnishings to consumer electronic outlets, Octopus™ is well positioned to offer business owners true savings and efficiency in their operations.
Contact Us
RETAIL POS for Ipad


Octopus™ Retail POS+
Octopus™ Retail POS
Save more money with Retail POS+ which uses cloud technology. With more advanced features, you are now able to access your data such as inventory and reports any time anywhere
Get it now for your business with just 29.95 USD/month
Get the app for your business at a fuss-free one-time price, with no hidden charges or recurring monthly maintenance fees.
Installation is a cinch - simply click download the application from the iTunes App Store
Add-ons and Companion Apps
Creating wonders together
Octopus™ Mobile POS
Octopus™ Jobsheet
Octopus™ Catalogue
A complete all-in-one product, excellent for retailers and consumer merchants alike. Suitable for outdoor sales staff.
Create jobsheets and service forms – fully user definable and integrated with Octopus™ POS.
Create a catalog of products on the iPad for easy viewing, browsing and management.
Octopus™ Count
Octopus™ E-Commerce
Octopus™ Dashboard
A simple stock taking product that allows the user to do a stock count of their inventory, and upload the file or email the stock count file out for internal processing.
Translates your offline business into online business literally in minutes. A web store integrated with all your inventory and customers data.
Providing business owners with key performance index - sales reports, customer analysis, product trends etc.